500 years of Mischief & Mayhem in Greenwich exhibition
Old Royal Naval College, Greenwich
–
A lighter look at the history of Greenwich and the Old Royal Naval College  for children and family visitors, celebrating some of the lesser known and more quirky stories and characters from its 600 years history encouraging them to explore the museum after lockdown running all Summer until October 31st 2021
The exhibition included original drawings, watercolours and murals coming to life through augmented reality and animations,  along with hand painted ceramics and a series of workshops and talks, illustrating Greenwich Pensioners and their lives at sea, quarrelling astronomers, misbehaving monarchs, the Gods and Goddesses from the Painted Hall and the architects of Greenwich. Highlights below…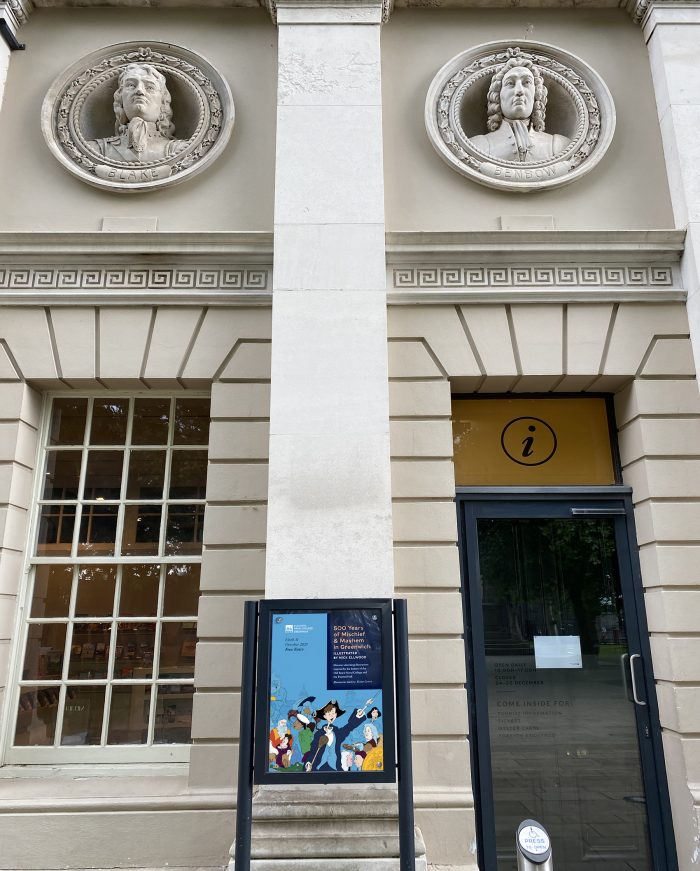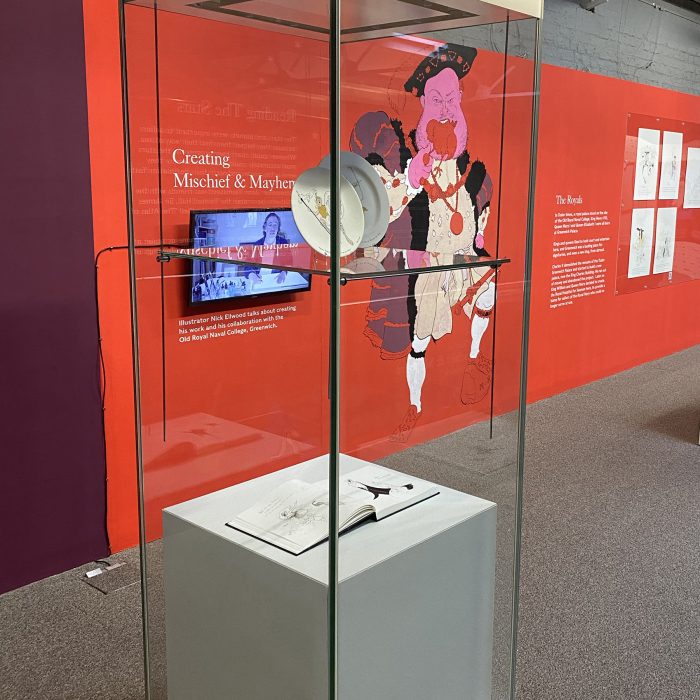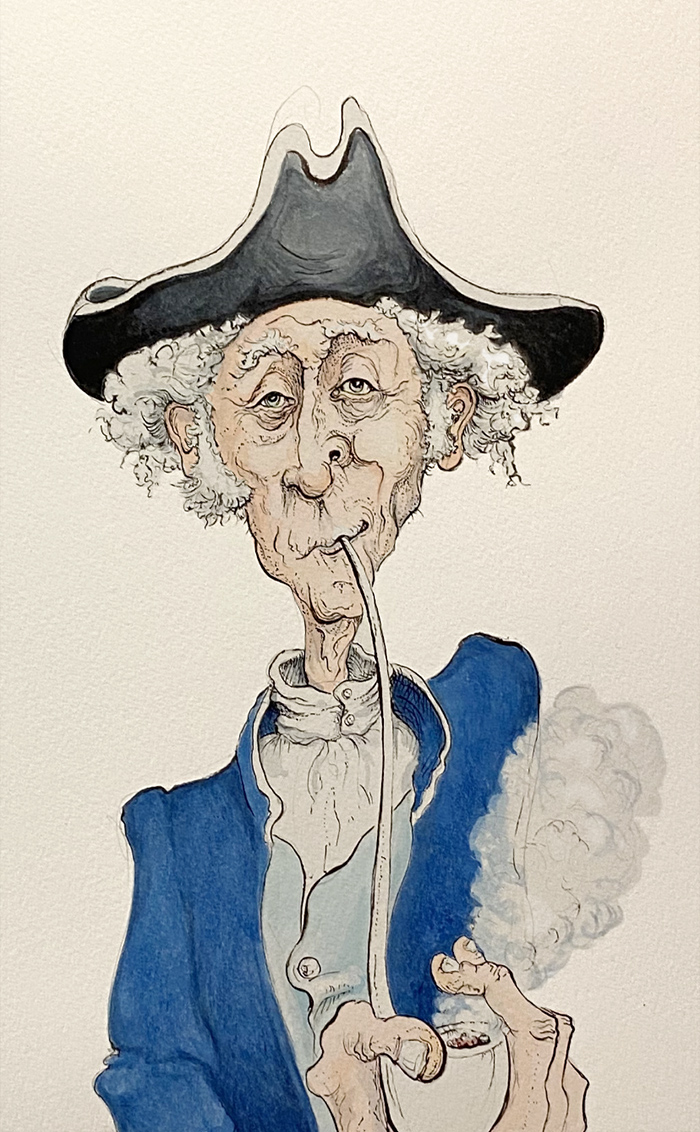 Imagined Greenwich Pensioner,  circa 1720
Watercolour, pencil and pen and ink 420x 594mm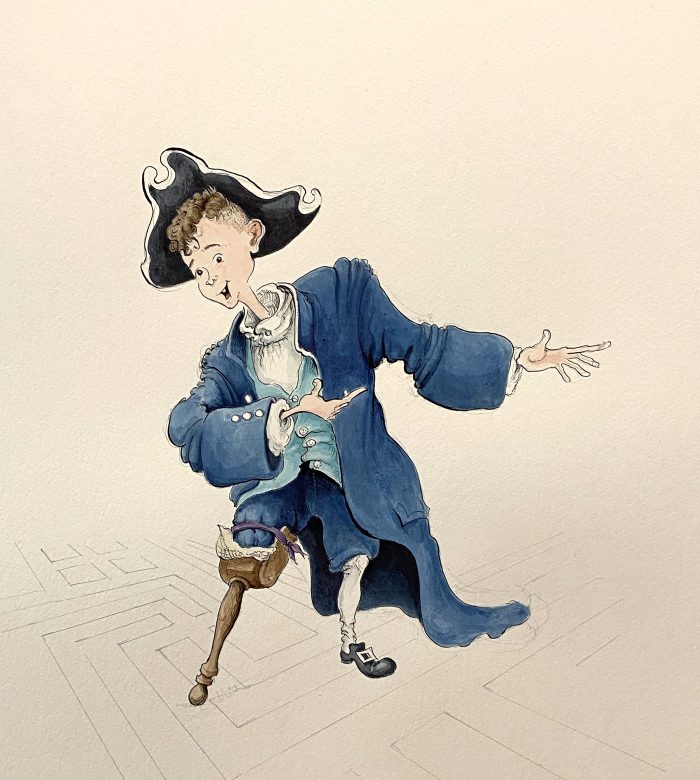 Jack McKerty
Watercolour pencil and pen and ink
420mm x 594mm
The youngest recorded naval pensioner to have lived in
'The Old Royal Hospital' now called The Old Royal Naval College.
Jack has become to narrator and tour guide to the children's and
family trail in the Painted Hall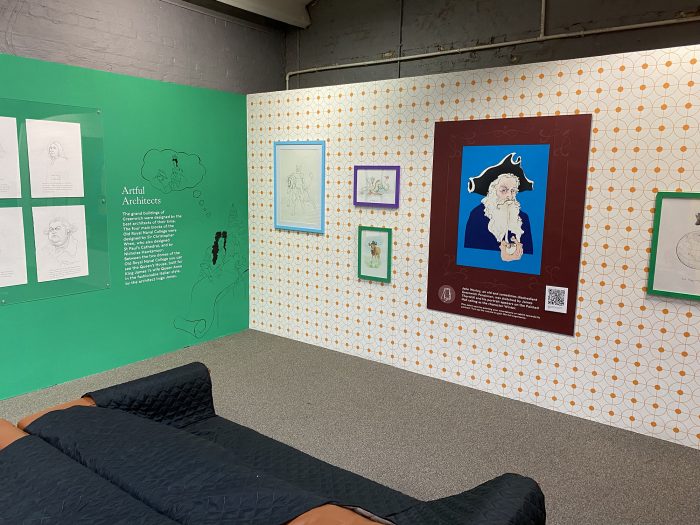 Old John (John Worley)
A Talking portrait
Visitors are invited to bring Old John to life through augmented reality,
viewing  Old John through the camera of their phones, John starts to animate and talk
inviting visitors to join in his quiz about Greenwich and  the Old Royal Naval College
Beware he is a little grumpy!
Old John is based on a real life character from the Greenwich
archives and from sketches and the painting
by Sir James Thornhill depicting John Worley as Old Winter
in the Painted Hall.
John was infamous for being one of the most mischievous
and badly behaved naval pensioners on
record, regularly noted for his surly nature and for being
drunken and disorderly!
THE QUARRELLING ASTRONOMERS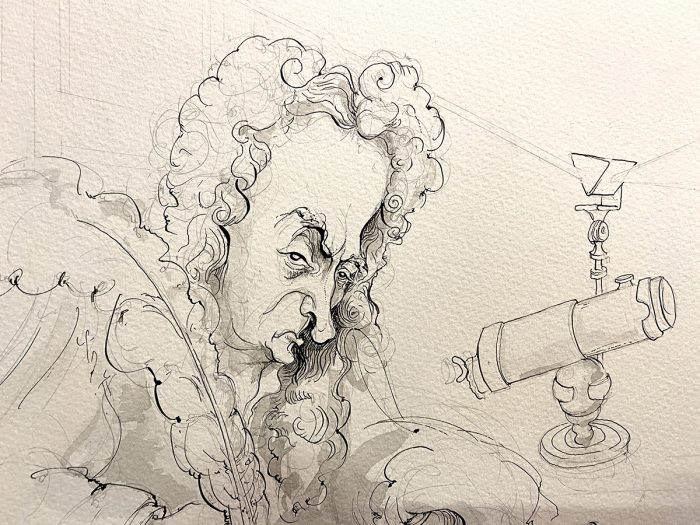 Sir Isaac Newton, the grumpy genius
Pencil and pen and ink wash
420 x 594mm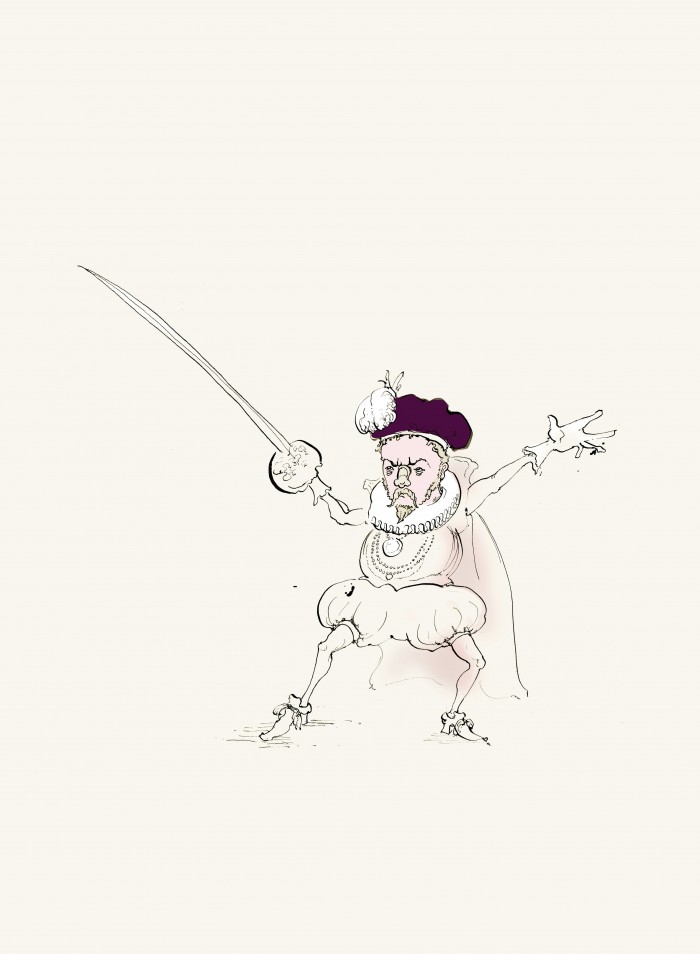 Tycho Brahe (1546-1601)
Pen and ink wash
420 x 594mm
The last astronomer to make observations with the naked eye.
Also famous loosing his nose in a duel over a maths argument!
Reading the stars
Visitors can view the stars and constellations as they appear
around them using augmented reality and animations
along with a brief background to the meaning of the names.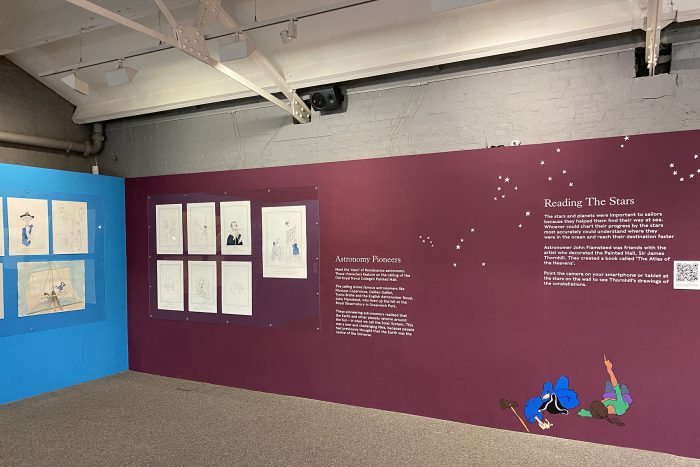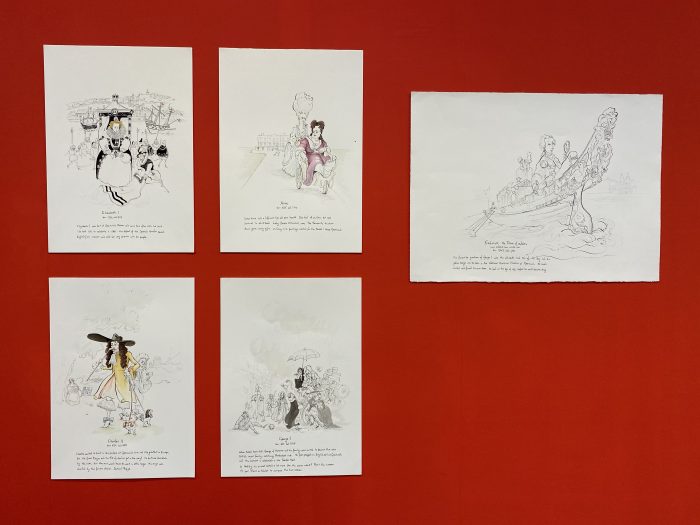 and King Freddie that never was!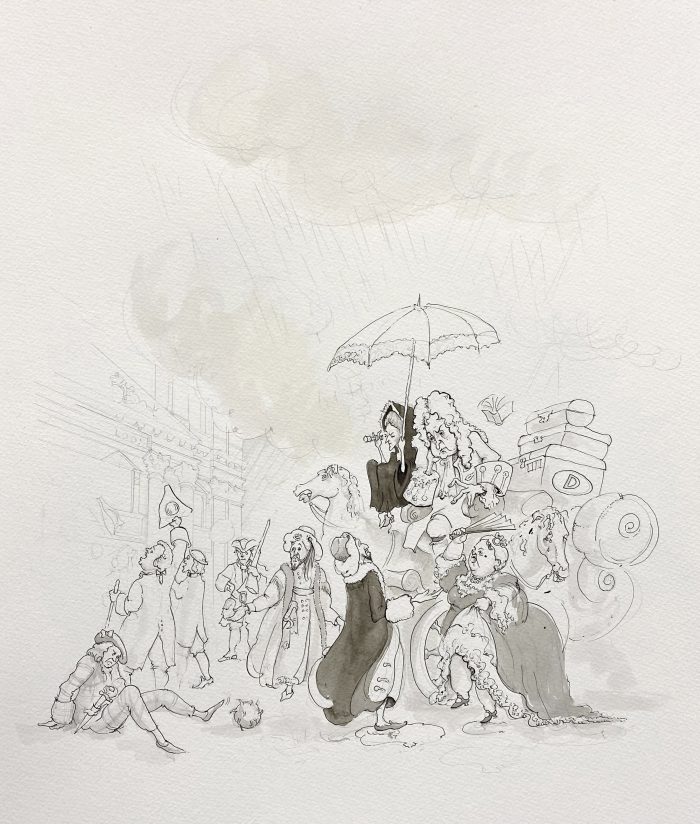 'The Arrival of George I  to England and Greenwich in 1714'
afterSir James Thornhill, 1719
Pencil and pen and ink wash 420 x 594mm
Eye witness accounts of the arrival differ slightly to the image Sir James Thornhill painted
– in the exhibition the visitor can compare this version (based on the eye witness accounts)
to Thornhill's using Augmented Reality and decide whether this might be a case of early Fake News!!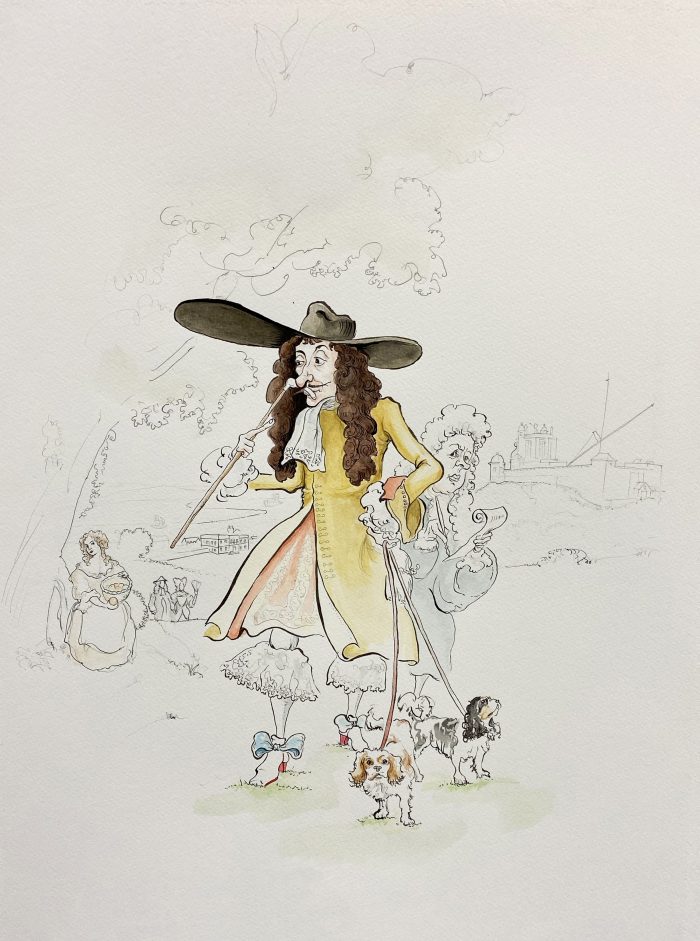 Charles II (1630-1685)
Exploring the grounds of Greenwich!
Watercolour pencil and pen and ink
420 x 594mm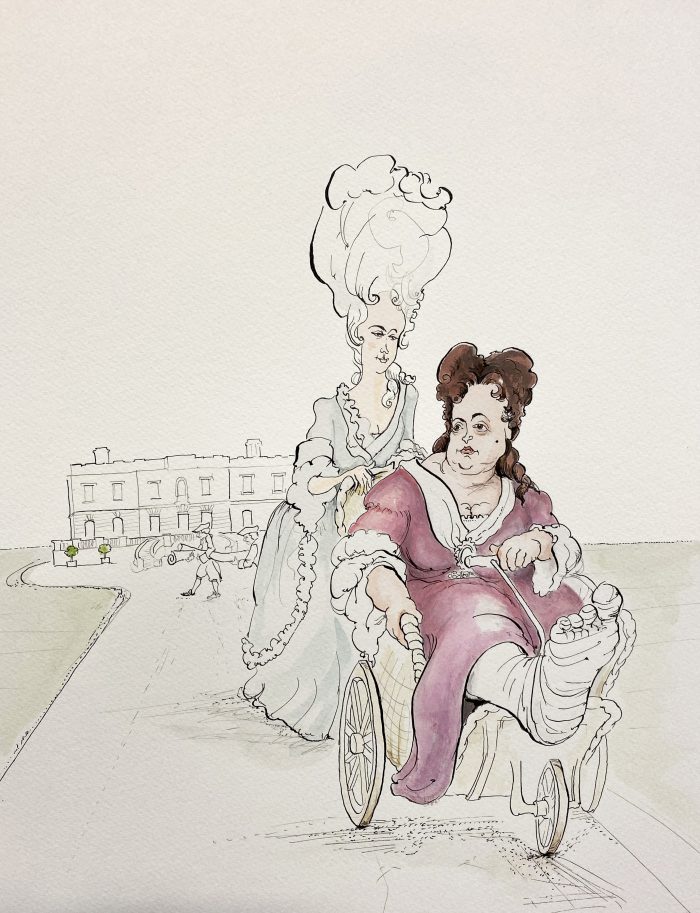 Queen Anne (1665-1714)
With Lady Sarah Churchill her 'favourite'!
Watercolour pencil and pen and ink
420 x 594mm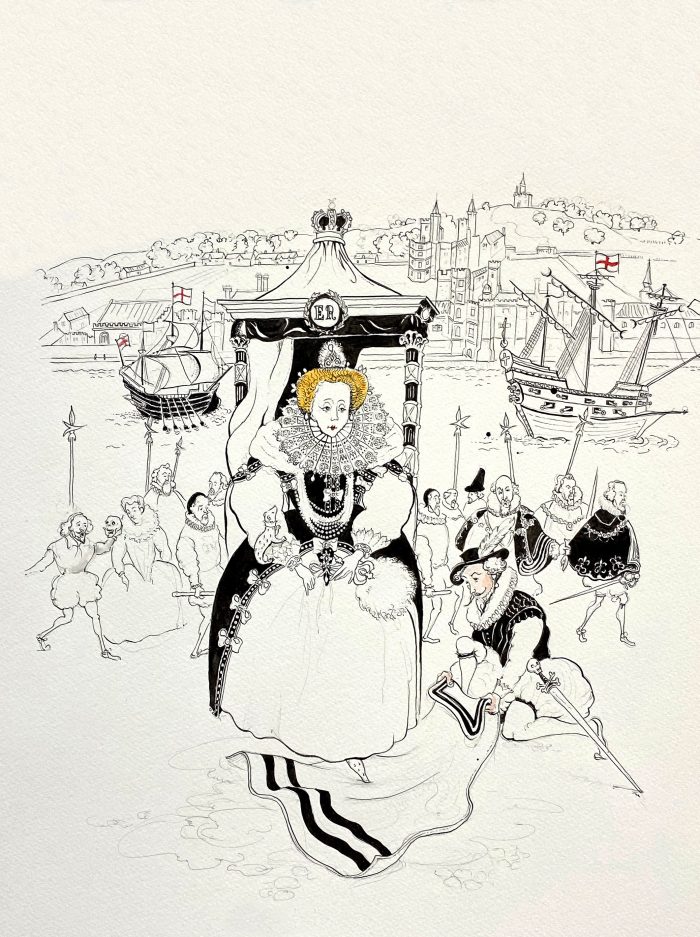 Queen Elizabeth I
Watercolour pencil and pen and ink
420 x 594mm
Born in Greenwich and shown here celebrating the defeat
of the Spanish Armada in the river Thames flotilla.
Folklore has it that it was here in Greenwich where Sir Walter Raleigh
lay down his cloak for Elizabeth to step over!
THE ARCHITECTS OF GREENWICH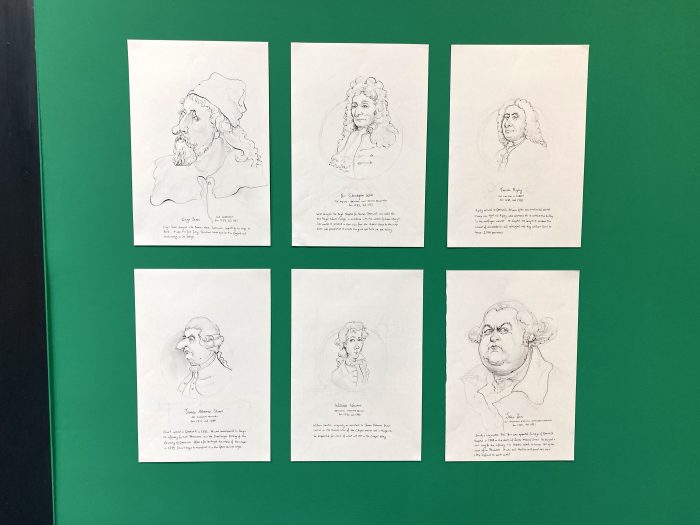 THE GODS AND GODDESSES 
from the Painted Hall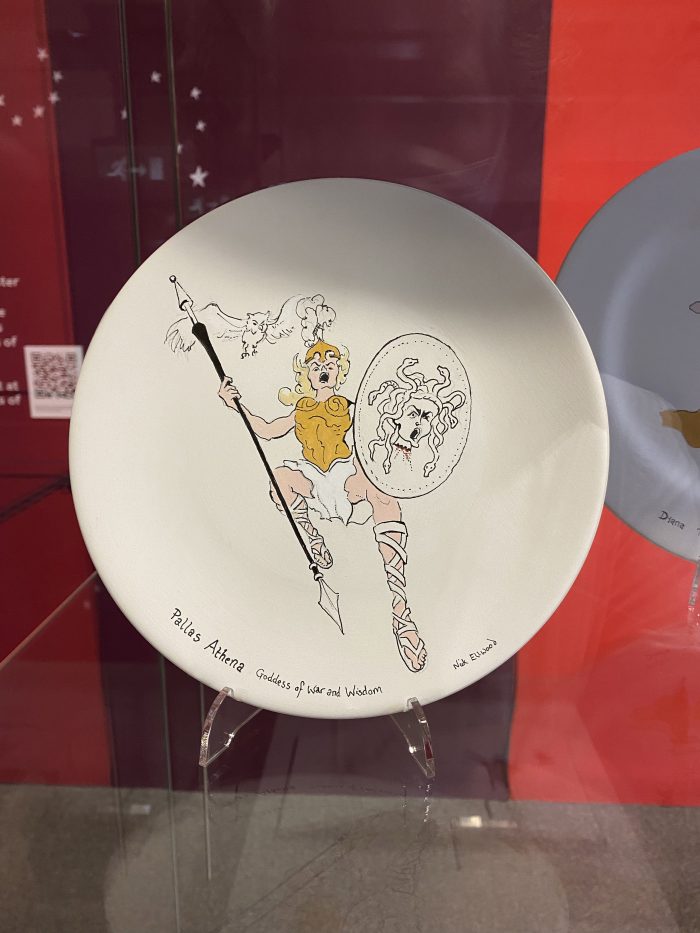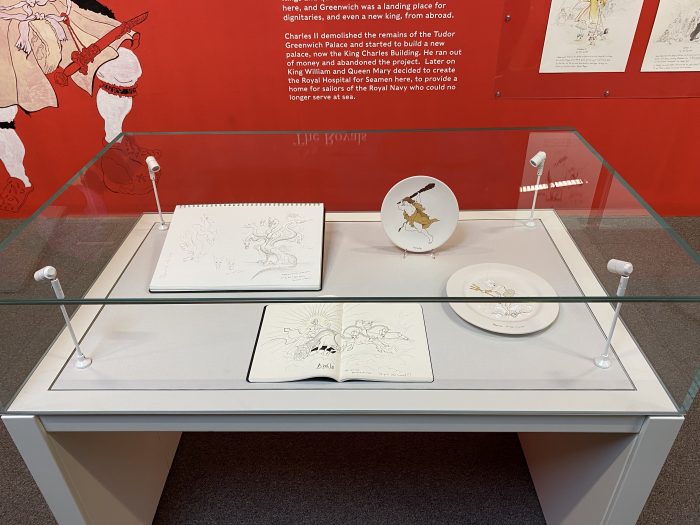 The Gods Goddesses Monster & Heroes
Hand painted plates and sketches celebrating the characters
and monsters from the Painted Hall and Greek and Roman mythology